Ah, this post is a little late but a while ago we celebrated Chinese New Year in Manchester! I decided to wear some cat ears, I thought they were like horse ears (year of the horse) but Neton said they're not! Ha, oh well!
I was going to wear a fringe, but it didn't look right to me:
The ears fell slanted backwards, and Neton didn't tell me! So I was walking around all day with the ears like that! >_<
I didn't know until I got home and reached to take the ears off and noticed they were at the back of my head! I didn't feel them slide down! Then I looked at the photos and noticed they had been like that ALL DAY! GR!
If you look in the background (mid-left) of this photo you can see a very confused face! Haha:
I love zooming into the background of photos I take to see how people are looking at me. >_<
Anyhoo, it was a fun day. China town looks especially beautiful when it's decorated for the New Year.
Photo: thomson.co.uk
Photo: gstatic.com
Photo: markpeel.com
There was a parade with a dragon dancing through the streets, I didn't see it through since I'm too short! >_<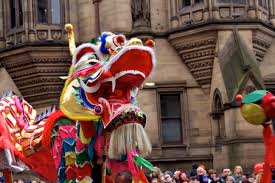 Photo: weatherforecast.co.uk
Photo: manchestereveningnews.co.uk
Photo: manchestereveningnews.co.uk
Photo: annabruce-stills.com
Photo: manchestereveningnews.co.uk
There were many stalls set up through the town:
There was a sort of talent show, I loved these dresses:
Unfortunately, we couldn't take any good photos!
When we went shopping later in one of the Chinese supermarkets a small dragon came in with people playing drums and symbols! It danced around the shop and in front of the altar.
When we were walking around we saw this man in costume walking down the street:
So, yah! It was a great day!
Yesterday was a little shitty though, I received bad news in a few different areas of my life - so that sucks. I need to have a positive mind though, I want to start blogging more and stuff, so maybe I will try focusing on that a little more. I still have so much to blog about, I just haven't got around to it!